BEFORE AND AFTER PHOTOS OF OUR PATIENTS
Patient: Matt, 25
Profession: Actor
Concern: Chipped front teeth.
Treatment: Dr. Boyajian made Matt a custom-fitted mouthguard, lightly reshaped misaligned teeth and replaced a misaligned crown. He then bleached and bonded (with a composite resin filling) his front teeth to correct crooked teeth and replace the length of his front teeth.
Result: Matt's teeth and skeletal structure are now working in concert with the facial muscles giving him a more youthful, relaxed appearance.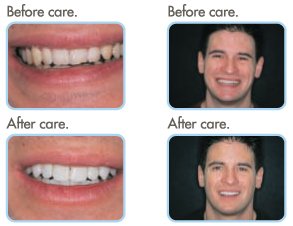 Patient: Tim, 47
Profession: Dentist
Concerns: Due to a lengthy and persistent grinding problem from a misaligned bite, Tim's smile was losing its healthy and youthful appearance.
Treatment: Dr. Boyajian placed multiple bondings to correct Tim's bite, reshape teeth and close minor gaps that were hitting improperly. (Bonding is a composite resin.)
Result: Today, Tim displays a confidant smile from ear to ear. The spaces between his teeth are filled in as well as back to their original, healthy length.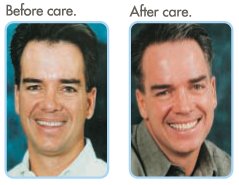 Patient: Shirley, 83 years young
Profession: Happily retired.
Concerns: Her chief complaint and concern were perpetually fracturing teeth. As a result, she had lost several essential teeth in the back of her mouth, which were threatening the health of her remaining teeth.
Treatment: We reestablished a correct bite, placed two dental implants and repaired the broken teeth with all aesthetically pleasing porcelain crowns.
Result: Today, the facial expression muscles are relaxed creating a more youthful smile that matches how she feels about herself and life. Her teeth are now protected, alleviating the concern for fractures and future replacements.