IMPLANTS HELP PRESERVE BONE IN THE JAW
Traditional procedures pose risks of complications, whereas implants promote overall oral and jaw health. The presence of natural teeth or implants helps to preserve the jaw bone. An extracted or lost tooth can cause the bone to weaken or erode. Once placed, successful implants provide stability and work to maintain jaw health just as natural teeth do.
WHY CHOOSE IMPLANTS
There are many reasons why choosing dental implants is a good treatment option for missing teeth. These reasons include:
Beautiful, natural looking smile
Bone preservation
Enjoy the foods you love
Speak with confidence
Preserve the adjoining teeth
A more comfortable smile
DENTAL IMPLANTS 101 IN WESTCHESTER, CA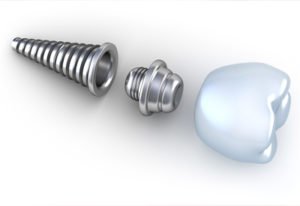 Missing teeth need to be replaced as soon as possible to prevent future problems and issues related to your oral health and functioning of the jaw. If you have lost a tooth or have several missing teeth, Dr. A. J. Boyajian may recommend dental implants as part of your treatment plan. Before you undergo this procedure, it is important to have a basic understanding of how implants work, and why they may be a good match for you.
HOW DENTAL IMPLANTS WORK
Dr. Boyajian may recommend implants over other tooth replacement procedures to ensure optimal fit and function and lasting results. An implant is made of three key parts: the titanium or ceramic implant, the abutment, and the dental crown. The first step of the procedure involves surgically placing the implant into the jaw bone. After placement, the implant fuses with the jaw bone and creates a connection that is very similar to that between the jaw and your natural teeth. The next step is to fit the abutment over the part of the implant exposed above the gum line. The final step is to place the dental crown over the abutment.
BENEFITS OF DENTAL IMPLANTS OVER TRADITIONAL TOOTH REPLACEMENT PROCEDURES
Previously, many patients with only a missing tooth would get a fixed bridge to replace the lost tooth. However, this treatment is not without its complications. Dental bridges may need to be replaced once or twice over a lifetime, and can damage the remaining natural teeth. Partial dentures have been another option for tooth replacement over the years but also have complications. Dental professionals have found that both of these procedures have up to a 30 percent failure rate within five to seven years. This translates to more costs for the patient over his or her lifetime and the possibility of many months of discomfort or inconvenience.

Dental implants have a far lower risk of complications, and they work to promote overall oral and jaw health. Because they more naturally simulate natural teeth, implants help to preserve the jaw bone, and successful placement results in more jaw stability and better jaw function. Dental implant success rates are backed by more than 50 years of science and research, and we have found them to be the best long-term option for tooth replacement and metal-free dental care procedures.