IMPLANTS ACT LIKE YOUR NATURAL TEETH
Replacing a single missing tooth can be most authentically accomplished with a single dental implant in Westchester, CA. The post of the implant mimics the root of your tooth while the dental crown looks and functions just like your natural tooth, requiring no additional maintenance.
BENEFITS OF DENTAL IMPLANTS INCLUDE:
Some of the key cosmetic benefits of dental implants include:
Improves the quality of your smile
Fills any gaps in your smile
Boost self-confidence and increases self-esteem
Creates an even and uniform smile
Preserves facial structure
Stimulates the jaw bone to prevent deterioration that could impact the facial structure
WHAT ARE THE BENEFITS OF DENTAL IMPLANTS?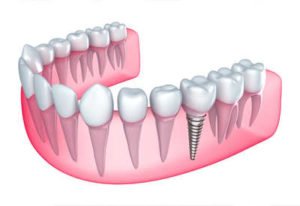 If you have lost a tooth or have missing teeth, you may feel overwhelmed by all of the different tooth reconstruction and replacement options available. Traditional forms of tooth replacement treatments include dentures, bridges, or combinations of both. Today, dental implants offer metal- and mercury-free dental care solutions for patients with missing teeth. Dr. A. J. Boyajian may recommend dental implants to many of his patients with missing teeth. He can provide you with more information about the best tooth replacement option during your consultation.
BENEFITS OF DENTAL IMPLANTS
Dental implants are one of the advancements of modern dental technology, and they provide patients with an alternative to dentures or bridges. Denture wearers often find that their dentures end up moving around in their mouth while they are eating and speaking, or that they make embarrassing noises or clicking sounds. Some find that their facial features end up looking very unnatural after a short time wearing dentures. Bridges offer a slightly better solution for lost teeth, but they are still semi-permanent and require upgrades and quick fixes over time. Dr. A. J. Boyajian does provide bridge and denture services, but he may recommend dental implants over dentures and bridges because implants do not have as many limiting factors.
WHAT TO EXPECT WITH DENTAL IMPLANTS
With dental implants, you can expect the most comfortable and natural-looking alternative to your natural teeth. Dental implants are designed to look and function just like your natural teeth, and can even be a good match for patients with diabetes, cancer, and heart disease. They can be a valuable part of a metal-free dental care plan. Dr. Boyajian will ask about any prior existing medical conditions or health problems during your consultation. He will also need to know about your smoking habits, as smoking can impede the success of the implants and also have a negative impact on your overall dental health.
DO DENTAL IMPLANTS REALLY WORK?
Some patients question whether the implant procedure works around previous dental work. The good news is that dental implants do work and can even reinforce existing work such as dental bridges and dentures. This means that even if you previously had dentures or have lost some bone tissue, dental implants can still be a viable option for you.
Do you live near Westchester, CA, and want to learn more about dental implants? Find out if you are a good candidate for holistic dental care by setting up a consultation or appointment with Dr. Boyajian today!